A Special Place, For A Special Occasion
Massage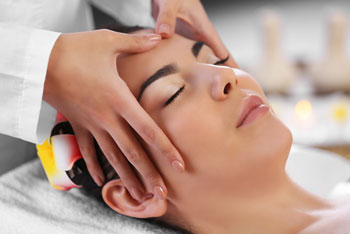 Cherry Valley Manor B&B collaborates with a team of visiting licensed massage therapists who offer a variety of in-suite massage services.
The convenience of having a treatment in the comfort of your room helps you achieve unparalleled relaxation.  No need to get dressed and drive somewhere.  Remain in the comfy robe and slippers provided and enjoy the jacuzzi or the luxurious bed for the continuation of bliss.
Massage therapy is one of the oldest of the healing arts. Among the most widely recognized benefits of massage are:
Release of emotional and physical tension
Reduction or elimination of back pain
Decrease in chronic pain                                        
Improved sleep                                          
Relief from sore muscles
Better skin tone Increased energy
Greater flexibility
Improved body and mind awareness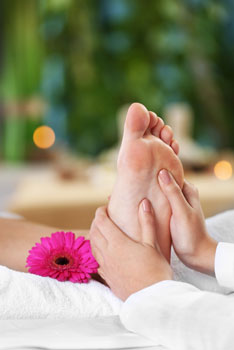 Our Wellness Menu: 
Couples massage.  Share the pleasure of massage therapy by experiencing a couples massage.  This may be a great opportunity to introduce a partner who has never tried it in the comfort and privacy of your room.  Let go of all the worries and stress at the hands of our experienced therapists.  Afterward, simply stay where you are, relaxed, soak in the heated whirlpool tub or take a nap. Perfect!
Couples Massage*…………………………………………………………$150
(Two 55 min sessions done at the same time or one following the other)
*Please note: Simultaneous massage is offered in the Royal Treatment Suite, Tiffany Suite, and Sleeping Beauty Suite.  The other suites can accommodate couples massage performed back to back.
Swedish Massage is the most popular of all massage types. The wonderfully soothing strokes and manipulations are designed to relax muscles, relieve tension, improve the flow of blood and stimulate the lymphatic system.
55 Min Swedish Relaxation Session……………………………….$75
85 Min Swedish Relaxation Session……………………………….$105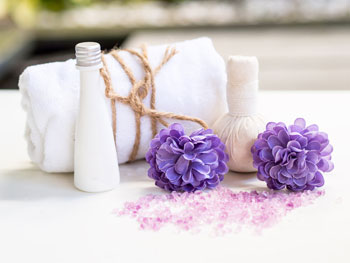 Therapeutic massage breaks the stress-tension-pain cycle by relaxing muscles, increasing circulation and bringing the body to neuromuscular balance. Designed to relieve muscular pain, address soft tissue injuries and increase the range of motion, it uses slower strokes with more direct pressure across the grain of muscles.
40 Min Therapeutic Session ………………………………..$95
85 Min Therapeutic Session ……………………………….$120
Mini Spa – This wonderful service pampers your face, feet, and hands! The treatment begins with a relaxing warm towel face massage, followed by a lavender hand massage and completed with a peppermint foot massage.
55 Min Mini Spa………………………………………………$85
About the team:
All of the therapists have graduated from professional massage therapy schools and are fully licensed.
Here are a few comments left by our guests:
"So relaxing!!!  The oil used smelled wonderful and was not overpowering the actual session.  I would definitely book this again!"  Akeya
"Amazing!  Most relaxing hour in a very long time."  Clay
"You made me feel comfortable and relaxed for my first massage.  I will definitely call for another appointment when I come back to the B&B."  Kimberly
How to book:
Please indicate your interest in getting a treatment when making your reservation with us.  We will provide you with the contact information of our massage team, so you can coordinate the scheduling and choose the type of service.